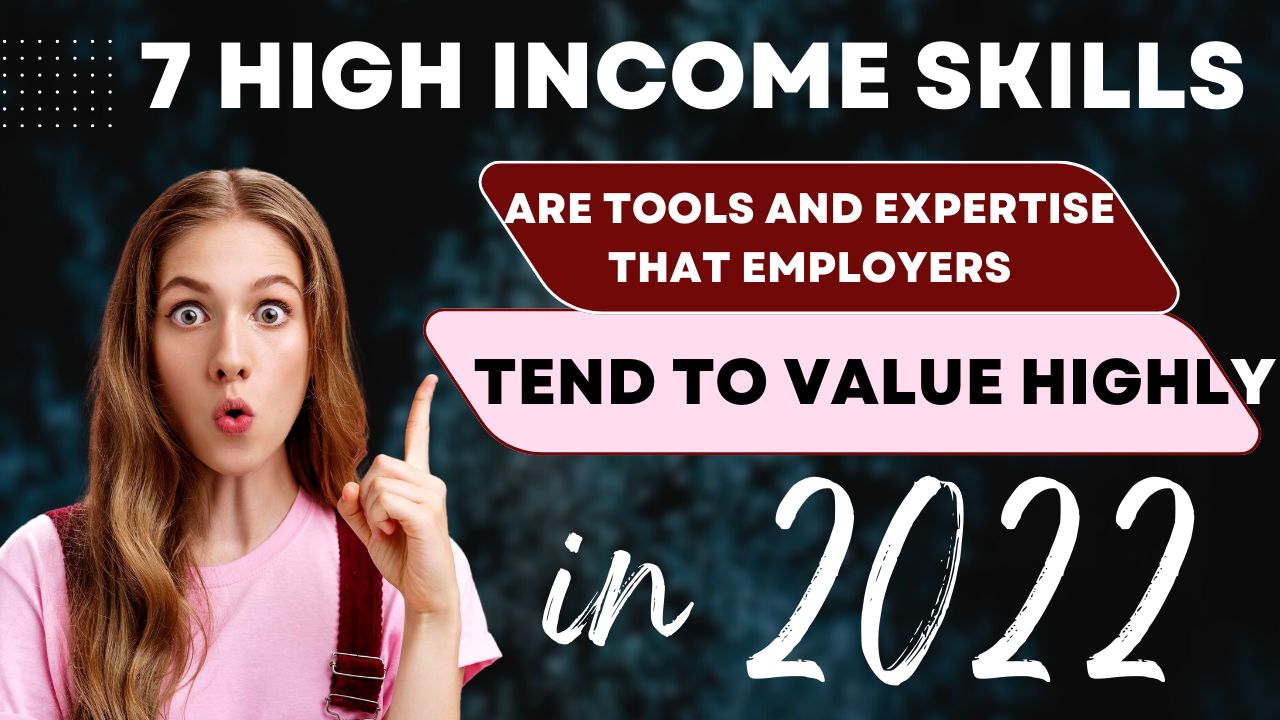 7 High income skills are tools and expertise that employers tend to value highly in 2022.
High-income skills are tools and expertise that employers tend to value highly in 2022.
Every job requires some combination of workplace skills and technical skills, and chances are, you have already built an impressive skill set derived from your education or past work experience.
High-income skills are tools and expertise that employers tend to value highly and may make it easier to change jobs and even industries, according to a 2022 report from McKinsey & Company [1]. These job skills may be rare, and they're often crucial to running a successful business.
As you aim to level up or shift your career focus, you may want to highlight your high-income skills in your portfolio. Depending on your desired career path, you may be able to leverage these skills to reach your salary goals.
Here are high-income skills that you can feature on your resume to help stand out to potential employers.
1. Data Analysis:
Analytical thinking and innovation is the top skill forecasted in the World Economic Forum's Future of Jobs Report [1]. As businesses across industries increasingly rely on data to make informed decisions, they require more employees with the ability to collect, interpret, and share data that can solve their business problems.
Salary: National Average – Rs. 6 lakh/- per year.
2. Software Development:
Increasingly, industries are turning toward technology to advance their business capabilities, and they need people skilled in developing, maintaining, and improving their technological systems.
Salary: National Average – Rs. 5 lakh per year (ranges from 2.2 lakh to 12 lakh per annum)
3. User Experience:
Hand in hand with technological development comes user experience (UX), which has to do with the way a consumer interacts with a product.
Salary: National Average Rs. 8, 11,426/- per year
4. Web Development:
Web development brings together the fundamentals of software development and user experience, incorporating the technical aspects of the former with the design elements of the latter.
Salary: National Average Rs. 22,000 per month
5. Project Management:
Many companies use an organizational structure in which different departments, teams, or team members all work on a singular product or project. A person who is skilled in coordinating efforts across each of those touchpoints is skilled in project Management.
Salary: National Average – Rs. 14.5 lakh per year
6. Account Management:
This field taps into a similar subset of skills to work with people outside of your organization
Salary: Average – 22,000 per month
7. Content Creation and Management:
Content creation and Management skills involve storytelling and are often crucial for marketing careers.
Salary: average – Rs. 6.5 lakh per year
So, ready to get these 7 high-income skills…
लेख आवडला तर
जास्तीत जास्त 🆂🅷
🆁🅴 करा
Disclaimer: This article is just for providing knowledge and updates to readers, this content is made through internet research, this article has no intention to the heart or promotes any brand/company/startup, this article is only made for knowledge, education, entertainment purposes, and there is no promotion at all. "This blog and I do not claim any right over any of the graphics, or images used in this article.
All rights reserved to the respective copyright owners." Copyright Disclaimer under Section 107 of the copyright act 1976, allowance is made for fair use for purposes such as criticism, comment, news reporting, scholarship, and research. Fair use is a use permitted by copyright statute that might otherwise be infringing.